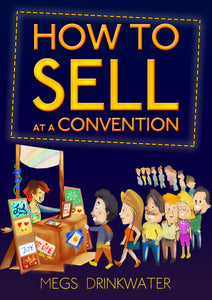 Ever wanted to sell at a convention?
No idea where to start?
Here is a quick guide of things to think about and questions to ask before committing to a stall.  Written for the Australian convention circuit, it easily translates worldwide with lots of practical tips for large scale conventions and even smaller scale markets.
Topics include:
What to think about before booking a stall
What to have/sell on your stall
How to price things
What to consider when planning your display
What you need to know before arriving for set up
How and why you should Track Sales
How and why you should Track Expenses
What to do during the Convention
What to do after the Convention
and more.
Also includes checklists for:
Pre-Booking Decisions
Pre-Event Tasks
Pricing
Packing for the event
Tracking Sales
Post Event Analysis