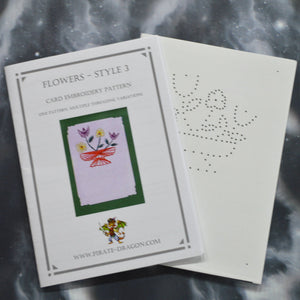 This is for a PHYSICAL Pattern sheet and instructions only.
To complete this design, you will need the following:
Pricking Tool - this can be a ball headed pin, hat pin or a specialised Single Needle Perforating Tool

Pricking Mat - this can be a thick piece of dense foam or felt. It should allow for easy entry of the Pricking Tool whilst keeping the card flat

A Fine Needle - this should be no larger than a Number 10 Embroidery Needle, the larger the needle the larger the pricked holes will be from stitching through them. (If comfortable using sharp needles I recommend a Fine Beading Needle)

Adhesive Tape - Matte-finish, invisible tape such as Scotch Magic Tape is recommended

Scissors

A selection of Threads - eg. Embroidery Floss, Metallic Threads, etc

Tri-Fold Greeting Card Blank (ie. single piece of card folded in three, is also sometimes referred to as a Bi-Fold card)

OR

Greeting Card Blank (ie. single piece of card folded in two) with extra card for insets

OR

Greeting Card Blank (ie single piece of card folded in two) with extra paper to hide stitching.

NB. Card should be 180-300gsm. When folded it should fit into a standard Greeting Card Envelope (eg. C6 - 114 x 162cm or A6 - 4 3/4 x 6 1/2 inches)
OPTIONAL ITEMS:
Double-sided Tape or Glue - to seal back of card/attach insert etc

Beads, Sequins and other embellishments - if wanted/required

Beading Needle - if using bead embellishments

Corner Punches - for Inset Card Designs

Ruler - to help prick holes in a straight line where necessary
PLEASE NOTE: This pattern includes a pricking template in 2 different sizes:
The smaller pricking template is for Inset Cards. This is where you cut out the pattern and stick it to the front of a Standard Greeting Card Black.
The larger pricking template is for a Standard Greeting Card (approx 10.5 x 14.8cm or approx 4.2 x 6 inches when folded). These are ideal for use with Tri- Fold Greeting Cards. If using the larger diagram on a Standard Greeting Card Blank, you will need to stick something over the back of (inside of) the card to hide the stitches.